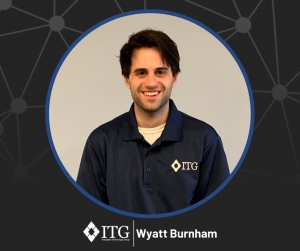 MADISON HEIGHTS, Virginia, - January 16, 2020 – In the wake of continuous security breaches and attacks on healthcare practices worldwide, ITG acknowledges the efforts of Information Security Engineer Wyatt Burnham to remediate this phenomenon. Wyatt has received the title of Certified Ethical Hacker by EC-Council. Such a reputable credential verifies that Wyatt is equipped to handle many duties, including vulnerability analysis, intrusion detection, and system hacking, to name a few. This achievement ensures that we have a highly qualified Information Security Engineer to secure and support the systems, data, and patient information which are so essential to our clients.
With cybersecurity and compliance at the center of our services, ITG is dedicated to ensuring our clients' data and systems are protected. In particular, our healthcare clientele must have reliable systems and secure policies and procedures so that protected health information (PHI) remains private. Wyatt commented on how the CEH certificate aids him in serving our clients, saying, "Information security is not a static field. Every day, the bad guys get smarter, and so we have an obligation to continue to learn security tactics for the good of our customers and our community." The keyword "ethical" is what dictates how cyber security professionals handle malicious hackers.
Since he joined the team over 3 years ago, Wyatt has increased in knowledge and attained the status of Information Security subject matter expert within our company. We at ITG are proud to have Wyatt's expertise, and we will continue to support our employees' efforts to expand their knowledge in order to provide excellent service and peace of mind to our clients.
OUR HISTORY AND MISSION
At ITG, our company purpose is helping healthcare professionals focus on their patients. Originally focusing on break-fix services, ITG has developed into a leading managed services company due to our focus on providing information technology services for private medical practices in underserved markets. We aspire to care for our clients and our team by voraciously pursuing our calling to provide excellent service.
What makes ITG stand out amongst the rest is our dedication to giving business owners and managers their time back. Our vision is focused on offering value to each and every client to be the market leader in managed services. ITG does not choose between quantity and quality, and we are consistently working to perfect our craft to give you back your time with more opportunity for business growth.  Currently under the leadership of Paul Meadows and Scott Francis, ITG is dedicated to providing you excellence in service through our commitment to efficiency, our service attitude, and our drive to create a positive customer experience. To learn more, please visit www.ITGHealthcare.com.