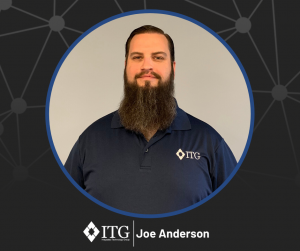 MADISON HEIGHTS, Virginia, - December 5, 2019 – In an effort to better serve our clients, ITG recognized an important next step for Joe Anderson, Systems Engineer, to take. Joe has become a VMware Certified Professional for Data Center Virtualization 2019. This certification has equipped Joe to design, implement, and maintain VMware vSphere Software-Defined Datacenters. This certification ensures that our clients have a qualified Systems Engineer to provide and support the underlying virtualization platform where all their virtual servers reside.
ITG is committed to assisting our clients in whatever way possible to achieve their business goals. For many of our clients, VMware vSphere Software is an efficient, cost effective way to operate their critical business applications, and scale their datacenters efficiently as needed. When asked about his takeaways from the certification, Joe shared, "This certification arms me with knowledge and skills to ensure vSphere virtual environments are configured to run correctly, as well as troubleshoot and isolate potential issues that may impact server performance at the virtualization layer." This certification exemplifies ITG's steps towards being better partners for clients in all service sectors. We recognize that businesses need to find ways to operate at a high level with a lower financial burden, and VMware vSphere allows them to do both.
The ITG team looks forward to integrating Joe's new certification and knowledge into the level of service we provide when working with VMware vSphere Software-Defined Datacenters. Joe has been with ITG for over two years working voraciously on the implementation of physical and virtual servers for clients. This is a challenging certification that adds to ITGs capacity which overall means more security for our clients.
OUR HISTORY AND MISSION
At ITG, our company purpose is helping healthcare professionals focus on their patients. Originally focusing on break-fix services, ITG has developed into a leading managed services company due to our focus on providing information technology services for private medical practices in underserved markets. We aspire to care for our clients and our team by voraciously pursuing our calling to provide excellent service.
What makes ITG stand out amongst the rest is our dedication to giving business owners and managers their time back. Our vision is focused on offering value to each and every client to be the market leader in managed services. ITG does not choose between quantity and quality, and we are consistently working to perfect our craft to give you back your time with more opportunity for business growth.  Currently under the leadership of Paul Meadows and Scott Francis, ITG is dedicated to providing you excellence in service through our commitment to efficiency, our service attitude, and our drive to create a positive customer experience. To learn more, please visit www.ITGHealthcare.com.