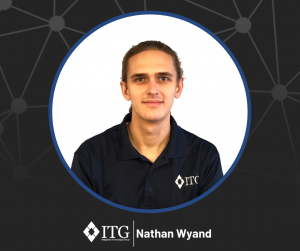 MADISON HEIGHTS, Virginia – Despite a global pandemic, service technician, Nathan Wyand, took time to expand his knowledge and skills. Wyand passed two information technology exams backed by the CompTIA seal - Network+ and Security+. 
When asked about his accomplishment, Nathan said, "Earning the Network+ certification means that when computers, phones, and other connected devices have trouble connecting, I have a collection of tactics to diagnose and fix the issue. Security+ certification, on the other hand, strengthened my awareness of dangerous security practices and social engineering attacks, helping to keep ITG and its customers' data safe." Wyand recognized that he could better care for his clients by increasing his knowledge of the systems he manages.  
Wyand started with ITG one month before the pandemic hit Virginia. Despite his unusual start, he has integrated himself with the team and has earned recognition from his clients for his excellent service. ITG looks forward to watching his continued growth as he pursues further certifications and services his clients with his new expertise.  
OUR HISTORY AND MISSION   
At ITG, our company purpose is helping healthcare professionals focus on their patients. Originally focusing on break-fix services, ITG has developed into a leading managed services company due to our focus on providing information technology services for private medical practices in underserved markets. We aspire to care for our clients and our team by voraciously pursuing our calling to provide excellent service. 
What makes ITG stand out amongst the rest is our dedication to giving business owners and managers their time back. Our vision is focused on offering value to each and every client to be the market leader in managed services. ITG does not choose between quantity and quality, and we are consistently working to perfect our craft to give you back your time with more opportunity for business growth.  Currently under the leadership of Paul Meadows and Scott Francis, ITG is dedicated to providing you excellence in service through our commitment to efficiency, our service attitude, and our drive to create a positive customer experience. To learn more, please visit www.ITGHealthcare.com.