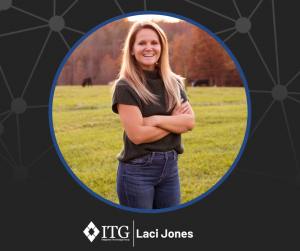 MADISON HEIGHTS, Virginia - ITG takes pride in growing a team with a voracious appetite for achievement. Laci Jones has fully embraced this attitude by thriving in her role as marketing coordinator. As the driving force behind the local medical and dental managers' groups, Laci has shown her extreme aptitude for multitasking and brand building, all the while cultivating friendships within the Central Virginia business community.
In recognition of her growth, she has been promoted to Director of Sales and Marketing and will head ITG's team of marketing and business advisors. She is looking forward to leading a team of amazing people with the goal of making a lasting impact on every client. Jones says the most rewarding part of her role is building relationships with people from all walks of life. This allows her team to become the trusted advisor for all things related to information technology.
After two years at ITG, Laci has continually shown passion for her clients and her teammates. Always looking for a way to connect with people, she has built a cohesive team all the while pushing for continued improvement. When asked about her goals for the new role, Jones says, "Grow ITG in ways we have only imagined. I have taken the past two years to truly embody what ITG is and understand where we want to go.  And now it is time to get there!" ITG is proud to have Laci on their team and they congratulate her on this next step in her career.