You're Invited to Our "Build Strong" Event in Rapid City!
On September 21, 2021 we're inviting you to a completely FREE workshop (lunch included) in Rapid City for small businesses, just like us!
WHAT'S IT ALL ABOUT?
For all of the negatives we can come up with about a year-long pandemic, we would be irresponsible, if not worse, if we didn't take the time to contemplate what we have learned from it.  While I think I could fill many pages with lessons-learned over the past 13 months (and counting), I will use this space to stick to what we small business owners should have learned about creating longevity in our businesses.
Financial Health: We should be constantly working on a rock-solid balance sheet – after all, it is one of the most key indicators of a business' financial health.
Revenue Generation: Ingenuity when it comes to new ways to generate revenue is essential. No time to dwell on the negatives – we need to identify the new opportunities created by whatever major change which has occurred.
Organizational Health: With the day-to-day business of revenue generation and service fulfillment at its slowest, we need to utilize this time to improve our ability to function effectively and adapt to change.
Operational Health: – Evaluate, Reorganize, if necessary, and train, train, train! When the market returns to normal, be prepared to win!
Emotional, Spiritual and Community Health: Whether it takes the form of providing a helping hand to those less fortunate or being a source of knowledge and encouragement, or both, paying it forward will provide bigger dividends than your financials could ever show.
SPEAKERS: Paul Meadows, President & CEO of Integrated Technology Group and
Dave Kountz, VP Support Operations of Moores Electrical and Mechanical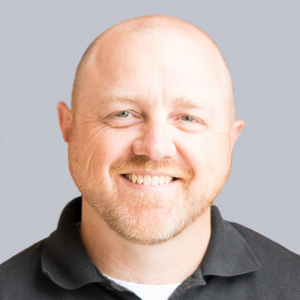 Paul Meadows
Years of building a business and a lifetime of ups and downs have taught me many lessons. Early on, while earning a BA in Business and Economics at the Virginia Military Institute, I learned that discipline and tenacity coupled with a resolute focus on teamwork can render unimaginable results. Later, during my 5-plus years of service in the United States Navy, my sense of value for hard work and duty were solidified a great deal. Once back in the civilian world, as an IT Manager, Director, Adjunct Professor and Program Head in secondary and higher education, I discovered a passion for sharing knowledge with others. Then, while working for over 3 years in an advanced independent healthcare practice, I developed a love for ingenuity and entrepreneurship. Since then, I have been steadily at work building a boot-strapped company from the ground up for thirteen years. In 2019 I earned a Master of Arts degree in Executive Leadership at Liberty University. That process of working on my education while building a business ignited a desire to be a life-long learner. This journey that has now lasted over 30 years, brings me to the meaningful work of helping others on their journey. My hope is that a multitude of businesses will benefit exponentially from what I can share at events like this!
Dave Kountz
Many of us wish certain areas of our lives or leadership were running more smoothly.  However, at times we don't know how or what improve, so we settle for subpar results.  Over 33 years of experience as an engineer and executive leader has taught me that if we can step back and understand what's producing these results, we can chart a path to a much better outcome. I have had the privilege of working in the government (NSWC), for a start up as a VP of engineering, in a non-profit as an Executive Pastor and most recently as VP of mid-sized (600 person - 100M) MEP company.  And in each one, I have seen the same principle played out, that "your system is perfectly designed to produce the results its producing".  So where I have found my greatest satisfaction is helping others to rethink and refocus on how they can be more successful in both the operations and the culture they are building and to find real purpose in their work and the "why" behind it. My interests outside of work center around my amazing wife, Debby, and our 4 grown children and two grandchildren.  I love adventure and have been fortunate enough to hike and explore some wonderful places around our world.  My deep faith is at the core of my principles, and I have a genuine desire to learn and help people unleash their full potential.

WHERE?
The Monument
"Rushmore H"
444 Mt Rushmore Rd North
Rapid City, SD 57701
WHAT TIME?
Seminar Schedule:
9:00am – 9:45am – Welcome & Financial Health
9:50am – 10:35am – Revenue Generation
10:45am – 11:30am – Organizational Health
11:35am – 12:20pm – LUNCH
12:25pm – 1:10pm – Operational Health
1:15pm – 1:45pm – Emotional, Spiritual and Community Health
1:45pm – 2:00pm – Q&A / Closing
*MUST BE REGISTERED TO ATTEND!*