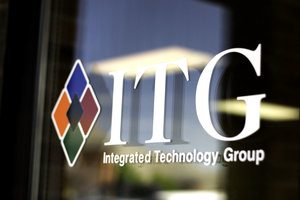 It is important to me that you know who we are and that you know the "ITG story", because it is one of the things that sets us apart from other IT companies. My partner, Scott Francis, and I are two atypical technology guys. I cannot say that we are "gamers" or "tech geeks" or even "Trekkies". Not that there is anything wrong with those who are (we love them!), but those terms just don't describe us. Neither of us gets too excited about the next techy, shiny or flashy thing. You might not guess that Scott is a horseshoe champion or that I drove stock cars at a dirt track when I was growing up!
We are just two normal guys who love our family and friends, sports and the great outdoors! If you saw us in the grocery store, you would never imagine that either of us were owners in a tech company. That's because we are more passionate about business than we are about technology. And we only love technology when it has a really practical application. We understand that technology is just the vehicle that gets us to the big prize, a successful business! Not just our business, your business!
In fact, the only thing that is more important to us than providing great solutions to business problems, is to build a great business the right way. Living out our values and surrounding ourselves in business with people who share those values and straining together under the pressure of the world we live in, to succeed in business while maintaining our values, is the most important thing we do in our work life. We get excited when we can implement technology that leaves no doubt in anyone's mind, especially the business owner, that our solution has significantly improved the business. There are lots of ways we can do that, and we cannot wait to tell you about them. Our work is our calling and we love doing it together.
-Paul Meadows, President/CEO